Cosmetic Dentistry Hyderabad
We at Tooth care deliver high quality Dental care with emphasis on an integrated, multidisciplinary comprehensive approach to dental problems.
Dr.Taufiq Munshi is a Life member of IAACD - Indian Academy of Aesthetic & Cosmetic Dentistry. He keeps abreast with the Advancements and procedures in the field of Cosmetic Dentistry and has completed numerous courses to give the Best in terms of Quality on the latest in Aesthetic Dentistry.
Cosmetic Dentistry Hyderabd is the science and art of improving your Smile. A beautiful smile is definitely an enviable asset to have. A set of crooked, yellow and chipped teeth will certainly be a subtraction from the face, no matter how attractive one looks. A great Smile conveys Health, Happiness and Vitality. Everyone is not born with sparkling white teeth, but with the help of Cosmetic Dentistry one can change the shape, size, arrangement and Color of their Teeth. Today's Cosmetic Dental technology can transform a less attractive mouth to a beamy and glowing smile. From contouring to straight to shaping - cosmetic dentistry Hyderabad can surely help you acquire sensational set of pearly white Teeth.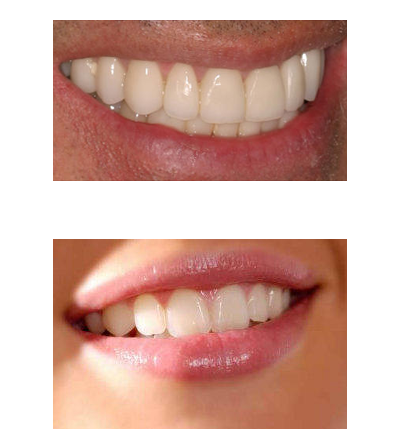 1. Bonding
This procedure of cosmetic dentistry Hyderabad can improve the appearance of teeth that are Chipped, Broken or have Spaces between them. Bonding involves Tooth colored or White Dental filling that is bonded on the surface of the tooth. This technique can be Direct Bonded Veneers/Laminates or Indirect Veneers/Laminates.

These are thin shells bonded on to the surfaces of prepared teeth. These veneers can correct or camouflage severe discoloration, chipped teeth, gaps between teeth and malpositioned teeth. It takes about 2 or 3 visits for a complete Smile Makeover.
Veneers can only be done when there is adequate natural tooth structure remaining
Direct Bonded Veneers/Laminates: In this procedure the Teeth are prepared with very mild reduction/grinding on the Front surfaces. This reduction is then layered directly by with white Dental filling material or composites to recreate the perfect Symmetry, Shape, and Size and also generate the depth of Colors. It can take anywhere from 2-3 visits to complete the procedure.
Direct Veneers/Laminates

Indirect Veneers: Indirect Veneers/Laminates is prepared after taking the measurement of the prepared teeth and then sent to the Laboratory. A thin layer or shell of Composite/Ceramic material is prepared. This then Bonded/glued to the Front side of prepared Tooth
2. Bleaching
Tooth Whitening: Tooth Whitening or Bleaching is a procedure by which you can lighten the naturally given color to your Teeth. Bleaching helps in whitening the teeth that are discolored or stained.
Bleaching is the simplest way to brighten your smile. Surface stains caused by food can be removed to reveal a glowing smile.
Office Whitening: The procedure is carried out in Dental Office/Clinic and takes from one to one and half hours of time. The Teeth are first cleaned and Special Whitening Gel is applied to the Teeth. This procedure consists of one, two or three cycles of 20-30 minutes each. Once the cycles are completed, the gel is washed off the Teeth. You may start enjoying your newer and Whiter Smile.

Home Whitening: For this procedure we make transparent trays that fit to the shape of your teeth. This tray has to be worn at Home for a certain period of time with the Special Tooth Whitening Gel. One can find a noticeable lightening of your teeth. Bleaching is probably the simplest and least invasive methods to improve a person's smile.
Your teeth can become 5-6 shades lighter. Depending on your lifestyle, you may need to bleach periodically.

3. Tooth Jewellery
Tooth Jewellery is the latest craze in dentistry. This is readymade Tooth Jewel available to everyone. If you desire to improve your Beauty or add a little Sparkle to your Smile, then you can do it with a jewel. Dental jewellery is a special decoration of Diamond, Gold or Crystal Glass stone, which can be pasted to your teeth without any damage. They can be Crystal clear, Sapphire Blue, Golden or a combination.
The selected Jewel is pasted on to the tooth with a Transparent Dental Cement or a Dental Glue. Pasting/Fitting takes about 10 to 15 minutes and is completely painless as there is no cutting or drilling of the tooth surface.


Jewels are applied to the labial (Front) surfaces of Upper Front Teeth. Some designs include Gold, Diamonds and also Rubies.
Tooth Jewellery is temporary and can be removed or changed to go for a new Design.
Dental jewel can be a new, significant part of your look and People can appreciate the Beauty of your Decorated Smile.